We made some memories
Author
Anastasia Kakotariti
"Sometimes you will never know the value of a moment until it becomes a memory"– Dr. Seuss
As the year draws to a close, we open a treasure chest full of our favourite Tanami memories of 2019.
Kat
I started with Tanami in July 2019, and my first five months have been filled with amazing experiences so far. My standout favourite memory comes from a series of interviews we produced for GirlGuiding Scotland's "Tartan Gig' at the SSE Hydro in Glasgow. I was lucky enough to meet the one and only Lewis Capaldi AKA "Scotland's Beyonce". He was every bit as funny as the man you see on social media…and he smelled like soup.
Craig
Back in January, we filmed a series of social stings depicting raucous rugby fans publicly declaring their 'Loudest and Proudest' passion for Scotland. We had these fans screaming down train carriages and yoga studios, but the most unique experience was our very own 'Night at the Museum'. Having commandeered the entire National Museum of Scotland for a night, the sounds of our fan yelling "C'Mmmmmmmmoooooooonnnnn" shook the Lewis Chess pieces, reverberated around the miniature coffins and awoke a mummified Dolly the sheep (well nearly).
 Anastasia
"Take your top off! Take your top off NOW!"
This isn't something I've heard on a shoot before! Unbeknownst to me, one of our featured filming locations on the 'Scotland is Now' campaign had been given a new coat of paint. After accidentally leaning on the freshly painted white wall, painters came running, screaming at me to take my top off so they could clean it with some "special" wipes as quickly as possible. I had no idea what was going on and my instant reaction was to back even further against the wall…Of course, I was wearing black and of course, it was my favourite jumper – RIP. And as for the undressing part, thank God we're in Scotland and we're wearing plenty layers, that's all I have to say.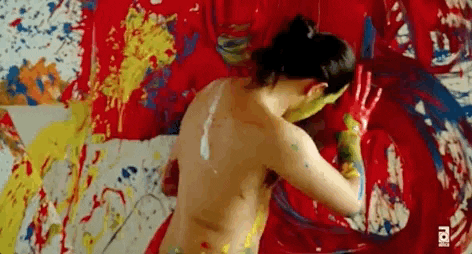 Greg
On the 18th of December I was granted temporary release from my editing cage and a camera was placed in my hands. The mission, to film a piece about the Edinburgh charity Streetwork, focussing on the relationship homeless people have with their dogs. It was a heart-warming experience as well as educational. It completely changed my opinion on homeless dogs and the quality of life they have. I left with a deep sense of gratitude for what I had and an equal amount of empathy that made me want to help in some way. That will be my challenge for 2020.
Kirsty
I thought the only chance I would ever get to meet Jerry Springer would be if I suspected my husband of cheating and I wanted to 'out' him on a televised platform, but thankfully there was another way. While producing promotional content for the Edinburgh International Television Festival, I got to meet the legend and ask him a few questions about his experience in Scotland. I may not have been one of his chat show guests accused of stealing a bathtub from their neighbour, but I got a similarly witty response.
Fabian
"Hallo Fabby!" Recalling my first day as a full-time producer here at Tanami fills me with joy and gratitude. On a personal level, I was welcomed by my colleagues wholeheartedly and professionally I felt highly appreciated being new to the team. This makes for a great memory of my short time at Tanami in 2019, which I like to recall every now and then. Jonny
My favourite memory of this year has to be winning the first ever Great Tanami Bake Off with my vegan, sugar-free pumpkin spiced cheesecake. I'd like to think that all that spare time watching GBBO paid off, although my macaron-making skills are still pretty underbaked. Having said that, I'd like to pay my thanks to Paul Hollywood, Pru Leith and Mary Berry for the tips and inspiration. On the back of this win I've had an order placed by my family to make a Christmas version for this year's Christmas dinner and several requests for the recipe, so it'd be fair to say that this win has been pretty life-changing.